From Sunday, July 28, 2019 - 08:00am
To Sunday, August 25, 2019 - 05:00pm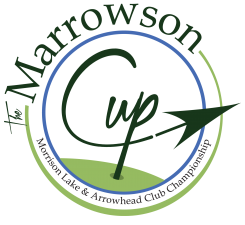 A club championship like no other!
There will be an Arrowhead bracket and a Morrison Lake bracket. The winner of each bracket will square off for the Club Championship and be crowned 2019 Club Champ.
Format: Handicapped match play; single elimination. After first round in the Marrowson Cup competition the handicap will be used from the competition.
Who: Eight members to rep Arrowhead and eight members to rep Morrison Lake. One member from each course will meet up and go toe to toe for the Marrowson Cup.
When: Begins the week of July 28th. Each week you must play 18 holes with your opponent. The rounds can be broke up into two 9 hole rounds but are due by the following Sunday.
Week one begins July 28th
Week two begins August 4th
Week three begins August 11th
Championship weekend @ MLGC - August 25th
Where: Arrowhead bracket played at Arrowhead and Morrison bracket played at Morrison. 2019 Morrison Lake will be site of the championship round.
Logistics: A bracket will be posted and players are responsible for lining up matches when both players can play. 18 holes must be played but can be broken down to two 9's - one front and one back. Must come with an established handicap. After first round we will use the handicap that is produced from competition within the Marrowson Cup.
Cost: $30 plus appropriate cart fees for each round played.
Prizes: Winner takes all cash prize, recognized as Club Champion for the year and recognized at the Member's Championship banquet.